中心师生出席第十届环太平洋先进材料与工艺国际会议
The 10th Pacific Rim International Conference on Advanced Materials and Processing (PRICM10), jointly organized by the Chinese Society for Metals (CSM), the Japan Institute of Metals and Materials (JIM), the Korean Institute of Metals and Materials (KIM), Materials Australia (MA), and the Minerals, Metals & Materials Society (TMS), was held on August 18-22, 2019 at the Qujiang International Conference Center in Xi'an, China. The PRICM conference is one of the largest and most influential conferences for the materials community.
由中国金属学会(CSM)、日本金属学会(JIM)、韩国金属学会(KIM)、澳大利亚材料学会(MA)和美国矿物金属材料学会(TMS)共同主办的"第十届环太平洋先进材料与工艺国际会议"(PRICM10)于2019年8月18-22日在陕西省西安市曲江国际会议中心召开。PRICM会议是全世界材料及工艺领域规模较大、影响力很高的综合性学术会议之一,近年来规模一直保持在千人以上的较高水平。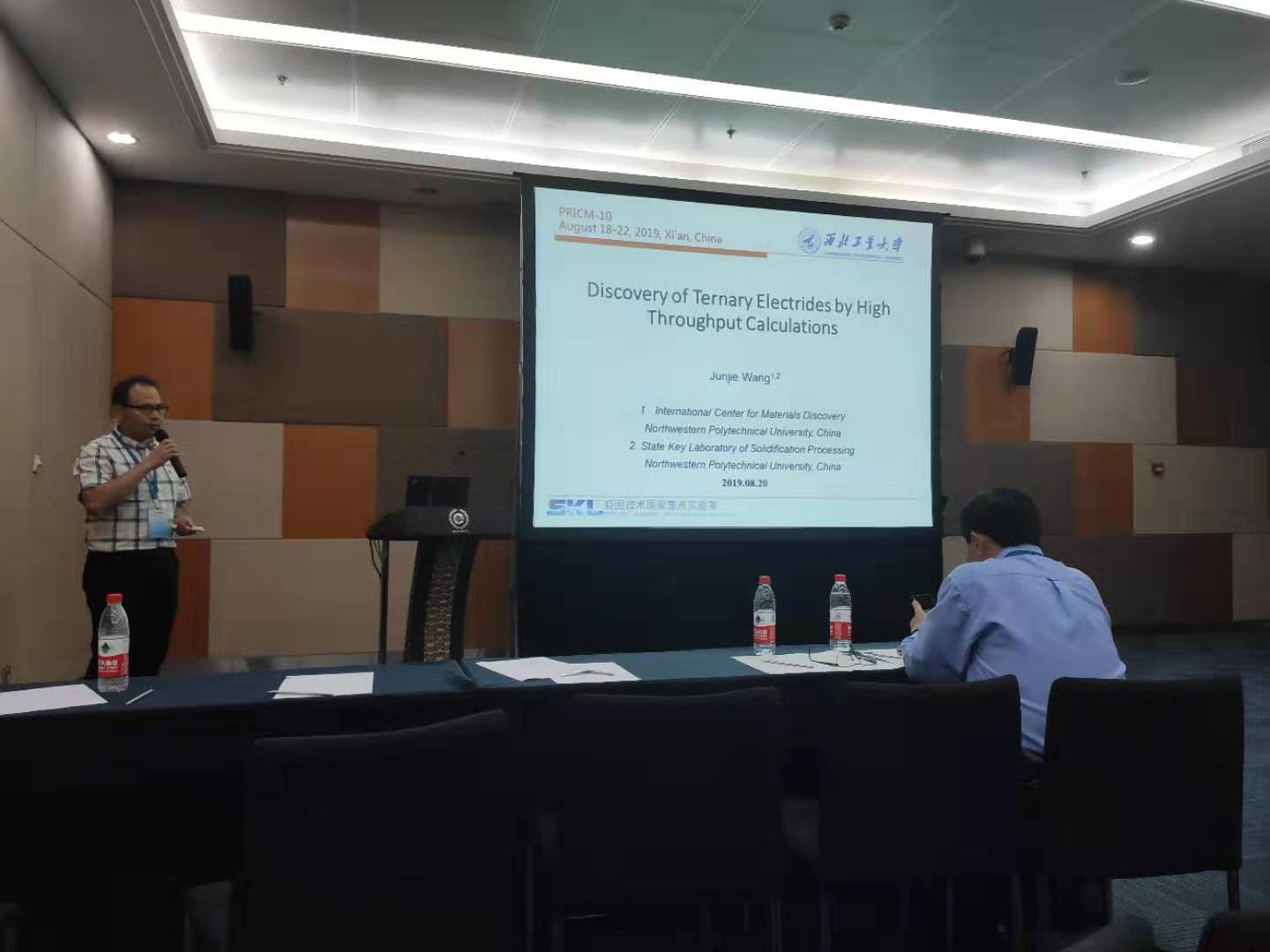 Prof. Junjie Wang of ICMD was invited to give a presentation on the topic of <Discovery of Ternary Electrides by High-Throughput Calculations> in the Symposium L: Computational Design and Simulation of Materials. Prof. Wang firstly introduced the definition and wide application of electrides, then explained how to discovery the ternary electrides by high-throughput calculation, and finally reported a breakthrough in the field of ternary electrides LaCoSi, a stable and efficient catalyst for N2 activation to produce NH3.
在此次会议的L分会:材料设计与计算模拟分会,本中心王俊杰教授受邀以《高通量计算发现三元电子化合物》为题做了精彩报告。王俊杰教授首先向与会代表介绍了电子化合物的定义与广泛用途,然后从技术层面生动形象地讲解了如何使用基于第一性原理的高通量计算搜索来发现三元电子化和物,最后介绍了三元电子化合物这一领域的最新突破LaCoSi,一种高效的合成氨反应活性催化剂。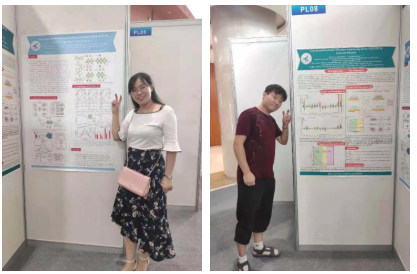 Two Ph.D students of ICMD, Nanxi Miao and Kun Li also attended PRICM10 and presented their research as posters. The title of Nanxi's poster is <Theoretical Prediction of Boron-Based MAX Phases M2AB and M2AB2> ,which described a theoretical work about boron-based MAX phase which is different from the conventional ones. In Kun's poster <Crystal and Electronic Structure Engineering of Tin Monoxide by External Pressure>, he focused on the shortage of small band gap of P4/nmm-SnO phase and reported a new SnO phase, owing a big band gap. Combining the topological analysis, it is concluded that the new SnO phase could be converted from P4/nmm-SnO via a high-pressure intermediate phase under the external pressure.
本中心的两位博士研究生苗楠茜和李琨在此次会议中进行了展讲。楠茜的工作《硼基MAX相M2AB和M2AB2的理论预测》找到了有别于传统的MAX相的硼基MAX相。琨的工作《压力作用下SnO的结构与电子性质研究》针对P4/nmm-SnO相带隙不足的缺陷,报道了一种具有较大带隙的新型SnO亚稳相,通过拓扑分析给出了该相可由P4/nmm-SnO相在压力作用下经中间相相变合成的可能性。